Interested in volunteering?
Thanks to everyone who volunteered this year!

If you are interested in getting involved next year, contact us. We will notify you once registration for 2024 opens!
Get Behind the Scenes
Volunteering is an amazing way to get a behind-the-scenes look at a professional golf tournament, and experience up-close-and personal the operations of this exciting event.​

Each LPGA event is a massive undertaking and the success of the Tournament depends on the commitment of a small army of volunteers. Each year, hundreds of volunteers donate their time to serve critical needs such as marshaling, scoring, transportation, hospitality services and many other important jobs.


Available Jobs
The following are brief descriptions of the volunteer committees available for the ShopRite LPGA Classic Presented by Acer. Specific openings are not guaranteed, but the tournament will make every effort to accommodate your preferences. Please take a moment to review the following requirements before making your final committee selection.
Ambassadors
Provide general tournament information to spectators. Distribute pairings guides and programs to spectators entering the tournament. Assist in answering general tournament questions.
Caddie Services
Distribute and gather caddie bibs and towels, register professionals' caddies and manage caddie tent
Concessions
Assist the Catering Service Provider in running the concessions stands located throughout the tournament grounds (requires ability to stand for long periods of time)

Family Fun Zone
Assist in the management and oversight of the Family Fun Zone in the Spectator Village, which will include a bounce house, mini-putt course and face painters (Friday – Sunday only)

Golf Carts
Oversee the check-out (am) and check-in (pm) process of all tournament use golf carts.

Hospitality
Check credentials, distribute wristbands, and provide general assistance at all hospitality locations

Leaderboard
Responsible for updating the manual leaderboard on the 18th hole (Friday-Sunday only)

Marshals
Provide crowd control and enforce golf etiquette among spectators

Merchandise
Help Seaview staff manage merchandise tent, including customer service, merchandise display and restocking.

Parking
Assist Parking Service Provider in parking operations, such as directing cars and collecting money

Parking Lot Shuttles
Assist with transporting vendors and other VIP personnel to/from VIP parking to main entrance

Player Services
LPGA player registration and management of locker room (females only)
Practice Range
Manage practice ball supply and player ID signs on practice range

Pro-Am Special Events
Assist with various Pro-Am tasks on both Bay & Pines Course. This will include assisting with Pro-Am group photos and on course activations.

Pro-Am Operations
Assist in Pro-Am registration, gift bag process and various on-course activations (Wednesday-Thursday only)

Scoring Control
Assist in the management of the LPGA's scoring system in scoring trailer (Friday-Sunday only)

Shuttles
Assist with transporting LPGA players and other designated personnel to and from the driving range

Standard Bearers
Walk all 18 holes with group of players while carrying standard (sign) and updating with players' scores (requires the ability to walk 18 holes, and lift and carry 20 pounds)

Starters/Announcers
Distribute scorecards and introduce players on the 1st and 10th tees at Seaview and off-site Pro-Am courses

Television
Assist Golf Channel staff in production of telecast (Friday-Sunday only, must be able to walk 18 holes and have general knowledge of golf etiquette and scoring)


Transportation
Drive tournament professionals in tournament vehicles to and from select locations (should have knowledge of local roads)

Volunteer Services
Manage uniform distribution; staff volunteer area during Tournament week

Walking Scorers
Walk and record scores for LPGA players with the event's scoring system (Friday- Sunday only)
Requirements to
Volunteer
Age Requirements
Volunteers must be at least 18 years of age, unless a legal guardian signs the volunteer application and waiver. Volunteers 13 and under MUST volunteer with a parent or guardian.
Shifts
Volunteers are asked to complete a minimum of three (4-6 hour) shifts to qualify for the round of golf at Seaview, A Dolce Hotel. Most committees will have an a.m. and p.m. shift, however some committees are not asked to report until later in the day due to the tournament needs. The volunteer chairpersons will coordinate the schedule for their committees based on the specific shift information provided by the volunteer.


Volunteer uniform package
Costs $65 and includes one official golf shirt; hat or visor; volunteer pin; one volunteer badge allowing clubhouse access and free parking all week; two good-any-day grounds tickets; breakfast and lunch for each day worked; one round of golf on Seaview's Bay Course ($25 cart fee). Volunteers ages 21 and under are not required to pay for their volunteer uniform package.
Click here to view terms and conditions.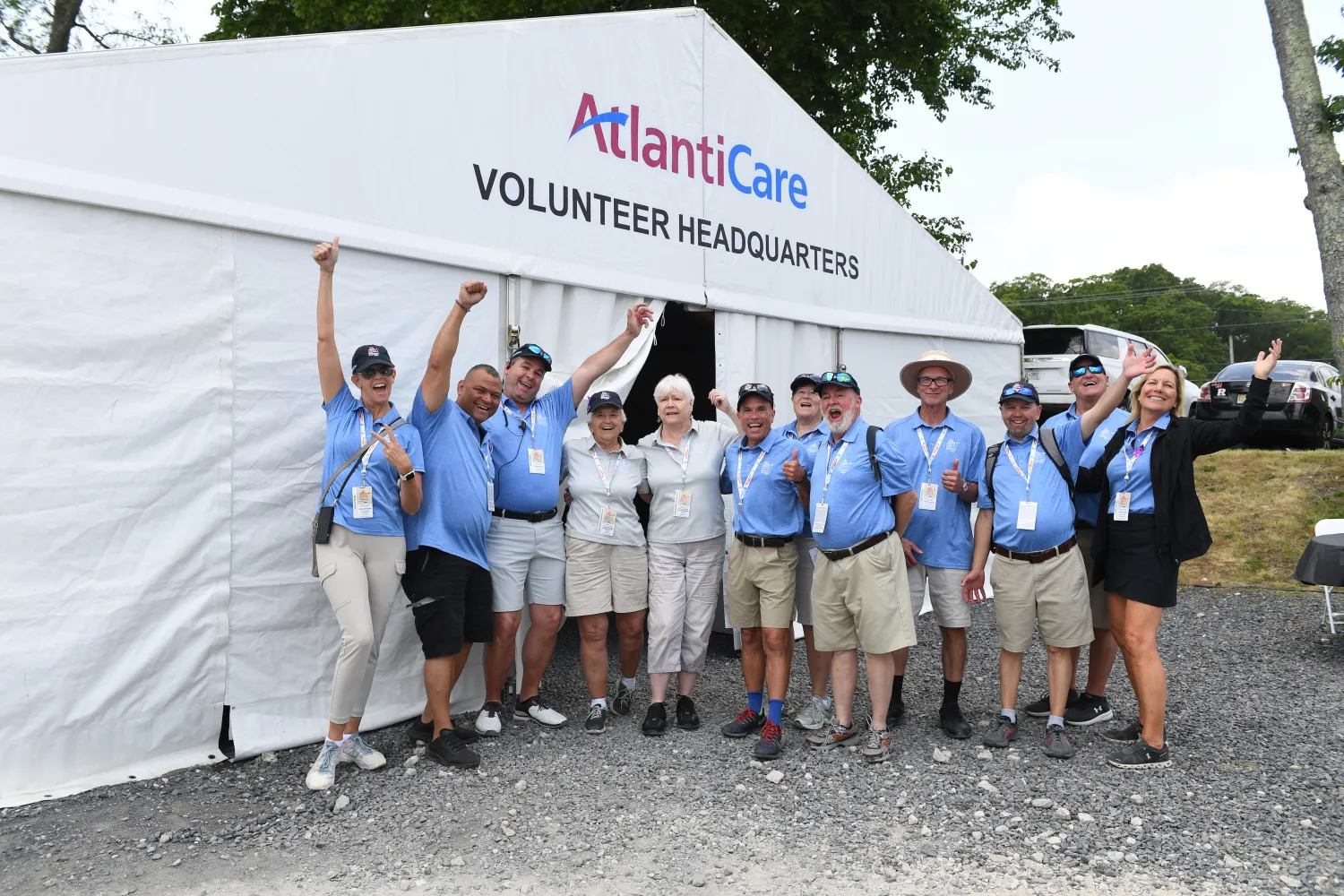 Volunteer
Resources
Parking
Please note: There is no general admission parking on-site at Seaview.
General Parking: Mon-Tues ONLY - Must Show Volunteer Credential
Marriott Fairway Villas - Lot B (Back of Villas Parking Lot)
500 East Fairway Ln.
Galloway, NJ 08205

General Parking: Wed-Sun ONLY - Must Show Volunteer Credential
Galloway Municipal Offices Complex
300 Jimmie Leeds Rd.
Galloway, NJ 08205


Volunteer Shuttle
A free six-passenger golf cart is available to take volunteers to and from the Lot B parking location. These carts will run continuously during the times noted below.

Volunteer Shuttle Times: TBA
Uniform pickup
Details to be announced.
Volunteer Kickoff Party
Details to be announced.