Holmqvist Lands at the Top of the Leaderboard With First Round 64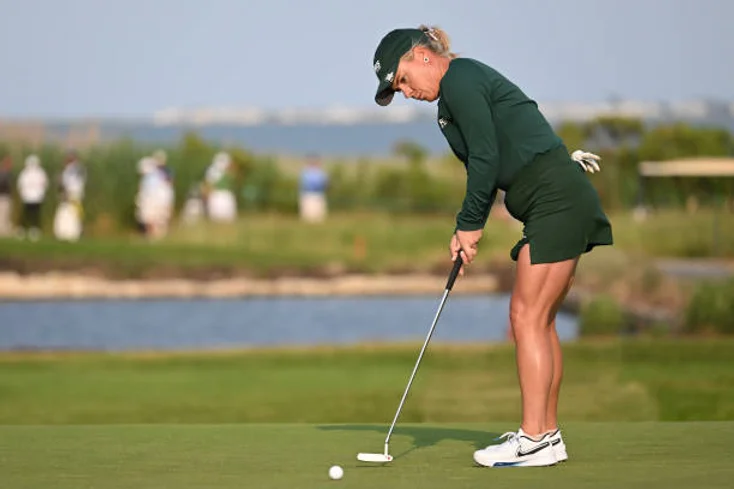 GALLOWAY, N.J. - As the sun set on the Bay Course at Seaview, a Dolce Hotel, Dani Holmqvist capped off her bogey-free round with an easy par on No. 9 to earn herself a solo spot atop the leaderboard at the ShopRite LPGA Classic presented by Acer. Starting off her day with a string of pars, the 35-year-old made her first of five birdies of the day on 14, then added two more on 16 and 17. She made the turn at 3-under, until a fifteen-foot putt on the 3rd hole moved her even closer to the top of the crowded leaderboard. The Swede wrapped her day with two birdies in her last four holes to finish the day with a 7-under 64, the lowest 18-hole score of her LPGA Tour career.
"Some weeks you're better than others, and some weeks you feel like you're losing. So it's fun to actually come up on top for you once," said Holmqvist, competing in her tenth year on the LPGA Tour. "This game is tough, and just got to cherish the moments when you actually put together a good one."
Trailing behind Holmqvist are LPGA Tour Rookie Yan Liu and Tour veteran Jenny Shin at six-under par. The pair had a pair of 65s, including a bogey-free round from Shin. With her score, Liu recorded her lowest-round on the LPGA Tour which included two eagles on both No. 9 and 18.
"From beginning this round I just also up and down, got birdie, and second hole is bogey, and so I just tell my caddie, say, we just go easy golf today," said the former Epson Tour player and CLPGA champion Liu. "Yeah, so we just play on the green and two-putt next hole. Yeah, that would be in my -- I just want to do like this today. I did pretty good back nine, yes."
Five players are currently huddled near the top of the leaderboard at five-under including Sarah Schmelzel, LPGA Tour Rookie Soo Bin Joo, Georgia Hall, Anna Nordqvist and Paula Reto. Both Schmelzel and Nordqvist completed their first rounds with no bogeys on the card, while Englishwoman Hall led the field with eight birdies scattered on the front and back nine.
"I was like so excited. I just wanted to stay really calm, but I just wanted to keep up with that eagle energy. Yeah, and I think that worked on the back nine," said Joo after shooting her lowest round of the 2023 LPGA Tour season.
With only 36 holes left, players like Schmelzel looked to make a hot start headed into the weekend; "Yeah, definitely, because there is not much wind today. There is not wind today and usually there is out here, so you knew this morning there would be a bunch of birdies made. So nice to get off to a good start and put yourself in the mix. Not really behind the eight ball right now. And it's good to see that you can go out and make birdies and do that again tomorrow and the next day. So it was nice."
Tomorrow, 144 players will return to the Bay Course to make the cut and vie for the best position to hoist the 2023 ShopRite LPGA Classic trophy on Sunday evening.
Back to News