Healthy Steps Challenge Donation to The First Tee Met NY to Support Healthy Living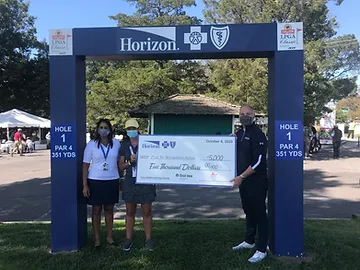 The ShopRite LPGA Classic has donated $5,000 to The First Tee Met NY to promote its commitment to healthy living, tournament organizers announced today.
"The First Tee works diligently to promote health and wellness in our communities and we're honored to support organizations that seek to change lives for the better," said Leela Narang, Executive Director of the ShopRite LPGA Classic.
The donation was made at the conclusion of the Horizon Healthy Steps Challenge, which is held annually under a partnership between the tournament and Horizon Blue Cross Blue Shield of New Jersey (Horizon BCBSNJ) to help promote the importance of an active lifestyle and healthy living. This year, tournament amateur Megha Ganne, a New Jersey resident and a First Tee Met NY, participated in the four-day challenge and took 27,335 steps.
"We are very excited to partner with the ShopRite LPGA Classic and we commend its generous support of The First Tee," said Jonathan R. Pearson, Executive Director of Corporate Social Responsibility for Horizon BCBSNJ. "Horizon applauds the tournament for hosting the challenge and showing that in the journey to a healthy lifestyle, every step counts."
The mission of The First Tee Met NY Chapter is to impact the lives of young people by providing educational programs that build character, instill life-enhancing values and promote healthy choices through the game of golf, with a focus of serving minority and under-privileged youth.
"We are very proud of Megha and her achievements and we are so excited that she competed in this year's tournament," said Katie Rudolph, COO of The First Tee Met New York. "Since fans weren't able to watch the tournament in person we had a lot of fun counting Megha's steps along the way."
Back to News