Defending Champion Brooke Henderson, Past Champs and Former No. 1's Headline Early Commitments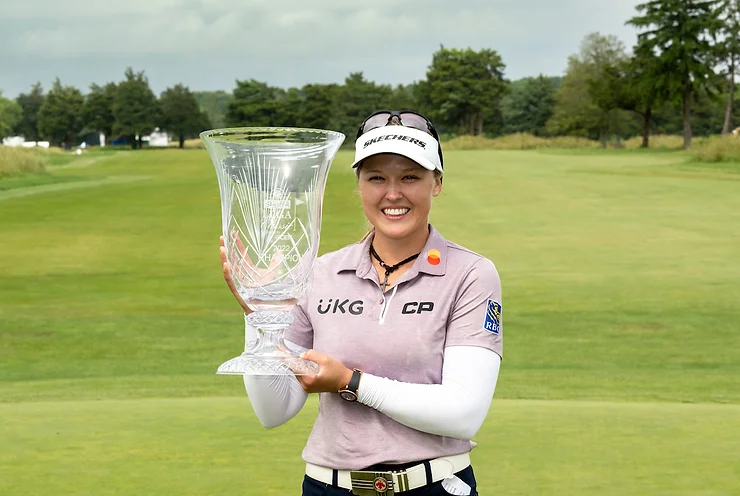 Philadelphia Cricket Club LPGA Teaching Professional and LPGA Tour Winner Meaghan Francella to Compete as Sponsor Exemption

Tickets on Sale at www.ShopRiteLPGAClassic.com
GALLOWAY, N.J., May 15, 2023 – 2022 ShopRite LPGA Classic defending champion Brooke Henderson, former World No. 1 players Jin Young Ko, Cristie Kerr and Ariya Jutanugarn and major champions and fan favorites Georgia Hall, Stacy Lewis and Brittany Lincicome headline an elite field of early commitments for the 2023 ShopRite LPGA Classic Presented by Acer, tournament organizers announced today.

In addition, LPGA Tour winner and Philadelphia Cricket Club teaching professional Meaghan Francella has accepted a sponsor exemption for a second consecutive year, taking place June 9-11 at Seaview, A Dolce Hotel in Galloway, N.J.

The 2023 ShopRite LPGA Classic will feature a 144-player field competing for a share of a $1.75 million purse. In addition to Henderson, past champions committed to the event include Mel Reid (2020), Annie Park (2018), In Kyun Kim (2017), two-time winners Anna Nordqvist (2015-16) and Stacy Lewis (2012, 2014), Brittany Lincicome (2011), Cristie Kerr (2004) and Angela Stanford (2003).

"We are excited to continue New Jersey's epic stretch of LPGA Tour events in 2023 with the ShopRite LPGA Classic Presented by Acer in June, serving as Atlantic City's kickoff sporting event of the summer," said ShopRite LPGA Classic media director Jeremy Friedman. "We look forward to welcoming back to Seaview the world's top professional golfers as well as our passionate South Jersey sports fanbase."

Tournament officials will be announcing in the coming weeks special ancillary events taking place throughout the week at the ShopRite LPGA Classic, additional sponsor exemptions and field commitments. For a complete list of tournament entries, click HERE.

Atlantic City's largest sporting event, the ShopRite LPGA Classic is one of the LPGA Tour's longest running events. For three decades, golf fans from across the northeast have converged upon Atlantic City and the Jersey Shore to watch the top female golfers in the world compete on the famed waterfront course. The tournament not only hosts one of the strongest fields in women's golf, but it also annually creates more than $19 million in economic activity in the region.

Since 1992, more than $40 million has been donated to area hospitals, food banks, education and youth programs. At the 2022 ShopRite LPGA Classic, dozens of nonprofits received grants and donations totaling more than $1.5 million during a luncheon hosted by Wakefern Food Corp., the largest U.S. retailer-owned cooperative and the logistics, merchandising and distribution arm for ShopRite stores.

Tickets on Sale: Tickets are on sale for the ShopRite LPGA Classic exclusively at www.ShopRiteLPGAClassic.com. Ticket packages include exclusive hospitality and general admission tickets offering a wide degree of entertainment and access. All 2023 tournament tickets will be completely digital and will be emailed after purchase. Tickets can be viewed on either a mobile device or printed out where they will be scanned at the main gate.

All military (active, retired, reserve and veteran), service personnel (police, fire, EMS) and front-line workers (doctors and nurses) and accompanying family will receive complimentary admission to the three days of competition at the 2023 ShopRite LPGA Classic (June 9-11), courtesy of SERVPRO. All service personnel also will receive access into the Patriots' Pavilion presented by Kleenex and SERVPRO. All military and service personnel must show proper identification at the main gate as well as at the Patriots Pavilion to gain entry.

ShopRite will once again offer Price Plus Club card holders two (2) free daily grounds tickets with a valid Price Plus Club card. Horizon Blue Cross Blue Shield of New Jersey and its subsidiary, Braven Health, also will offer all card holders two (2) complimentary free daily grounds tickets, valid during competition rounds.

There are four ticket options for fans interested in attending the 2023 ShopRite LPGA Classic (**Ticket prices do not include taxes and fees**):
Daily Grounds:

General admission daily grounds, valid for one round Friday-Sunday, June 9-11 (tournament rounds).
$20

Weekly Grounds:

General admission daily grounds, valid Friday-Sunday, June 9-11 (tournament rounds)
$40

Hard Rock Suite - 17th Green:

Luxury greenside suite offering exclusive views of the 17th green. Includes upgraded food and beverages and cash bar. Each purchase valid for one round of competition rounds, Friday-Sunday.
$175

Champions Club – 18th Green Hospitality:

Luxury greenside suites overlooking the 18th green. Includes upgraded food and beverages and open bar for alcoholic beverages. Each purchase valid for one round of competition rounds, Friday-Sunday.
$275

The ShopRite LPGA Classic Presented by Acer continues its tradition of supporting several charitable organizations, with 100 percent of advance ticket sales going to a number of participating partners.

For more information on the ShopRite LPGA Classic Presented by Acer, visit www.ShopRiteLPGAClassic.com, and on social media @ShopRiteLPGA on Twitter, @ShopRiteLPGA on Instagram and ShopRite LPGA Classic on Facebook.
Back to News