Dani Holmqvist Takes One Shot Lead Into Sunday's Final Round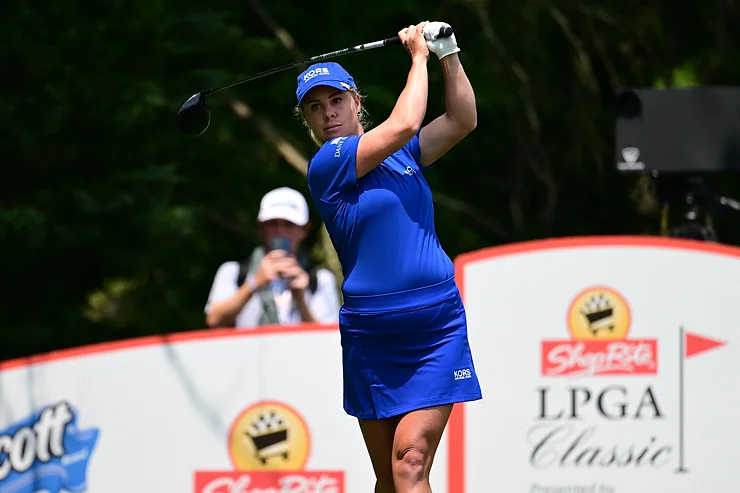 By Ron Henefer

GALLOWAY, N.J. - Dani Holmqvist takes a one-shot lead (-11) going into Sunday after two rounds at the ShopRite LPGA Classic Presented by Acer. Following a bogey-free round one Holmqvist continued her dominance on the greens with seven birdies on the day posting a 67 (-4).

"I think there are so many good and talented players in this field, and it's going to be low scores. Only thing I can do is try to do the best that I possibly can, and hopefully that's enough," said Holmqvist.

Trailing Holmqvist in second place is Hyo Joo Kim at -10 after recording a 65 (-6) finishing with back-to-back birdies. Two strokes behind in third place is Ashleigh Buhai at -8 after a 65 (-6).

Saturday's lowest score came from Brianna Do with an impressive bogey-free 65 (-7). She now sits at -7 total for the tournament, tied for fourth place.

"I came into today at even, so I knew I had to shoot something in the 60s to make the cut and play. I haven't got very many starts this season with my status, so just taking advantage of this start. I think I was just pretty comfortable out there, working with my caddie. She read some great putts out there and we just got things rolling early and kept it going," said Do.

17-year-old Chiara Noja showed off her skills on day two of her LPGA Tour debut, posting a 67 (-4). The tour rookie now sits tied for fourth place at -7 ahead of the final round.

"I just tried to keep myself in contention as much as I could. I had some tricky situations and I hit some awful shots in the midst of everything. I am proud of how I managed to fight back," said Noja.

Live coverage of the final round of the ShopRite LPGA Classic Presented by Acer starts tomorrow at 2:30 on Golf Channel.
Back to News