Celine Boutier Wins 2021 ShopRite LPGA Classic Presented by Acer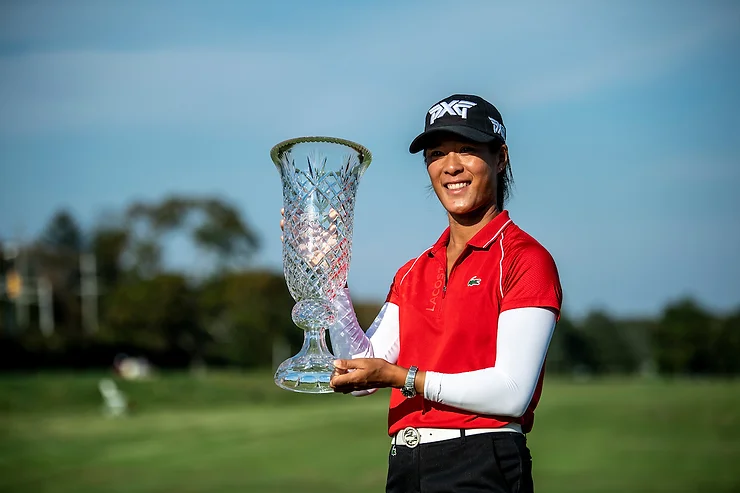 BOUTIER BEATS THE BEST ON BAY COURSE FOR SECOND LPGA TITLE

Celine Boutier matched a career-low score on Sunday with a final-round 63 in the ShopRite LPGA Classic presented by Acer to reach 14-under par overall and hold off Rolex Rankings No. 2 Jin Young Ko, No. 3 Inbee Park and a charging Brooke Henderson for the second LPGA Tour title of her career.
"It was such a surreal day. This morning, I knew the course was scorable and that I had to shoot a low score to even have a chance," said Boutier, who hit 14 greens in the bogey-free effort. "Then after No. 18, I had left everything on the course. But a couple of groups were left out there.
"I was expecting to go into a playoff. It was already in my mind having to prepare for that. The fact that neither Jin Young nor Inbee birdied 18 really left me kind of stunned. I'm still a bit surprised about it."
With the win, Boutier matches Patricia Meunier-Lebouc and Anne-Marie Palli for most wins by a French golfer in LPGA Tour history. One of the wins for Palli also happened to be the ShopRite LPGA Classic, as she won the 1992 tournament in a playoff over Laura Davies. Palli cashed a winner's check of $60,000, while Boutier collected $262,500.
"It's really hard to describe and even realize what it means, but I fortunately know both Patricia and Anne-Marie, and they're the nicest people," Boutier said. "Patricia has won a major, so I feel like I'm not even at that level yet. There's not that many French players out here on Tour, so it's just always amazing and I'm super proud to represent my country every week.
"I know Anne-Marie quite well, actually. I got to know her my first year on Tour because she lives in Phoenix and we used to have the Founders [Cup] tournament there, so she would come out and watch. She was actually here this week playing in the Pro-Am, so I saw her Wednesday and Thursday. I really do love her energy and I'm sure she was watching, too. I hope she's happy."
The victory comes just two starts after a win in her native country at the Lacoste Ladies Open de France on the Ladies European Tour. Boutier discussed how being part of the victorious European Solheim Cup team in September spurred these results.
"I think it give me a lot of energy. My next tournament after the Solheim [Cup] was the French Open, which I won, too, so it kind of helped me for the French Open," said Boutier, a three-time LET champion. "And then the French Open helped me get more confidence coming into these weeks on the LPGA. I just feel like I'm having some really good momentum and hope to keep going until the end of the season."
Henderson finished in a tie for second with 36-hole co-leaders Ko (69) and Park (69). The Canadian shot a 7-under 64 for her career-low round on the Bay Course at Seaview, a Dolce Hotel. That also tied the second-lowest score of the tournament with Maria Fassi, who went 7-under par on Sunday to reach -12 overall and secured a career-best result on the LPGA Tour of solo fifth.
"I said to [caddie and sister] Brit, 'We finally played like us, and that feels really good.' It was so fun to be back in contention," said Henderson, who played in the same group as Boutier on Sunday. "It was fun to be near the top and have a chance to make a couple birdies coming in."
Ko and Park had birdie looks on No. 18 to force a playoff with Boutier. Neither could capitalize; Ko from seven feet and Park from eight.
"Celine played a great round. I really didn't see them coming from that much behind, but I obviously did not have a great round. I mean, it was okay, but not good enough to win," Park said. "Got off to a good start. Just couldn't finish well. A little bit disappointing.
"I knew that I had to make a birdie [on No. 18] and gave it all I got. Just came up a little bit short."
JAYE MARIE GREEN FINALLY SEEING THE LIGHT
Jaye Marie Green lives by the word "Blessed" that hangs on a necklace around her neck. She always has a smile on her face. But that smile can sometimes hide some inner turmoil.
With just two top-15 finishes in 2021 heading into the ShopRite LPGA Classic presented by Acer, it was sometimes hard to keep her smile. It turned into a full-on grin after Green wrapped her week on the Jersey Shore with a tie for seventh at -7, capped by a season-best 66 on Sunday.
"It's been a lot of up and downs just on and off the golf course," said Green, who earned her eighth career top-10 finish. "It's hard to play good golf when other things aren't going well. Things in life have been good and I think I that made it easier to play better golf."
Green had a spectacular front nine on Sunday, making the turn at 6-under off six birdies. She cooled on the back, carding a bogey on No. 10 and making eight pars into the clubhouse. She said she knew right when she got up this morning that it was going to be a good day.
"It was just almost like playing a video game. I was just doing what I wanted to do," said Green. "I was like, oh, this is fun. Wish it was like this every day."
Green gave much of the credit to her caddie Jack Clarke, who picked up her bag at the beginning of the season. Until this year, Green had usually worked with her brother Matt or her dad Donnie, so having someone new took some getting used to. As someone who closely relies on her caddie for support, Green truly feels that Clarke's work – and friendship – is a crucial aspect to today's success.
"He believes in me, and that really helps. Because I haven't been playing good this year and I know he's probably gotten better offers, but to stick by me (is great)," said Green. "He helps me a lot on and off the golf course. He's become like a really good friend."

CLASSIC VENUES PROVIDE CLASSIC FINISHES
Sometimes the game gives you great winners and sometimes you get memorable finishes. In the 2021 ShopRite LPGA Classic presented by Acer, you got both.
Celine Boutier, the 27-year-old from Montrouge, France who now lives in Dallas, Texas, posted a career-low 63 Sunday on the Bay Course at Seaview, a Dolce Hotel, to finish the 54-hole event 14-under par. Boutier, who has had a remarkable year with appearances in the Olympics and on the victorious European Solheim Cup team and followed those memorable moments with a victory in her home country at the Lacoste Ladies Open de France on the Ladies European Tour, did not expect her day in New Jersey to be over after signing her card. That's because the No. 2 and No. 3 players in the Rolex Rankings, Jin Young Ko and Inbee Park, had eight- and seven-footers respectively for birdies on 18 to tie the lead. When both missed, a stunned Boutier had her second career LPGA Tour victory and her second professional win in three starts.
Seaview also had another classic finish. This was, after all, the place that hosted the 1942 PGA Championship. Sam Snead won that one, his first major championship and the last major played before sports took a break for World War II. The day after collecting the Wannamaker trophy, Snead reported for duty in the United States Navy.
That is one of the many great stories from this site. You had Betsy King outlasting Rosie Jones and Beth Daniel here in the ShopRite LPGA Classic in 1995. A year later Dottie Pepper ran away from the field, beating Amy Benz by four and Annika Sorenstam by five. Annika won here two years after that, beating Juli Inkster by four. A year after that an unknown player from South Korea named Se Ri Pak broke into the winner's circle and began what would become a world-changing career.
King won again in 2001, followed by another win from Sorenstam, who would add a third a few years later. Angela Stanford, Cristie Kerr, Ai Miyazato, Brittany Lincicome, Stacy Lewis, Karrie Webb, Lexi Thompson: the list of winners at Seaview is a who's who of women's golf.
Back to News