Celine Boutier Set To Make Title Defense in Galloway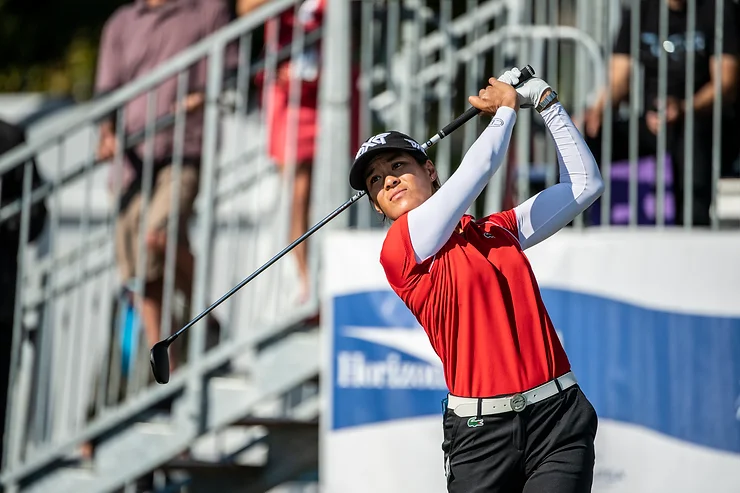 GALLOWAY, N.J. -- For Celine Boutier, a week defending her 2021 ShopRite LPGA Classic Presented by Acer title means a bit more notoriety compared to a normal week for the Frenchwoman on the LPGA Tour. Not only is her trophy picture plastered across the many tickets and credentials around Seaview, A Dolce Hotel's Bay Course, but the 28-year-old has been getting pictures from friends in the area who have seen a life-size cut out of her while grocery shopping at the local ShopRite.
"It's really cool to see that even a lot of people recognize me," she said. "It's kind of weird to see also my faces in the ShopRite stores. I feel like they really embraced my win. I mean, it's been pretty nice."
Boutier, who became a Rolex First-Time Winner at the 2019 ISPS Handa Vic Open, said she wasn't paying attention to leaderboards on the final day last year after starting five shots back. "I was pretty far behind," she had thought. A birdie train on her tont-nine – six birdies in her first nine holes – earned Boutier a bogey-free 63 and a career-low score, puching back the 36-hole co-leaders Jin Young Ko and Inbee Park.
"I just remember a lot of the putts that I made especially. It was kind of funny because I normally don't really think about that stuff and I don't really remember much about my shots in general, like the courses and stuff," said Boutier. "But yesterday I played the front and I just like could remember the putts that I made and like just the shots that I had on the last round, which was kind of fun. It was pretty nice round and just overall just pretty good memories."
Boutier enters this event having made every cut in 2022 through 11 events, and has earned four top-four performances, including a season-best third at the Honda LPGA Thailand. The former Duke Blue Devil is 10th in the Race to the CME Globe points standings. She's tempered off as of late, having earned three top-thirty finishes in her last three starts, and said she's hoping to use this week as good momentum going into the summer swing.
"I have been struggling a little bit with my long game the past few weeks, so just been trying to get a hold of that," said Boutier. "I think my swing is feeling a little bit better week after week, so hope to be build off that and have a solid next few weeks."
Back to News