Ashleigh Buhai Wins the 2023 ShopRite LPGA Classic, Her 2nd LPGA Tour Victory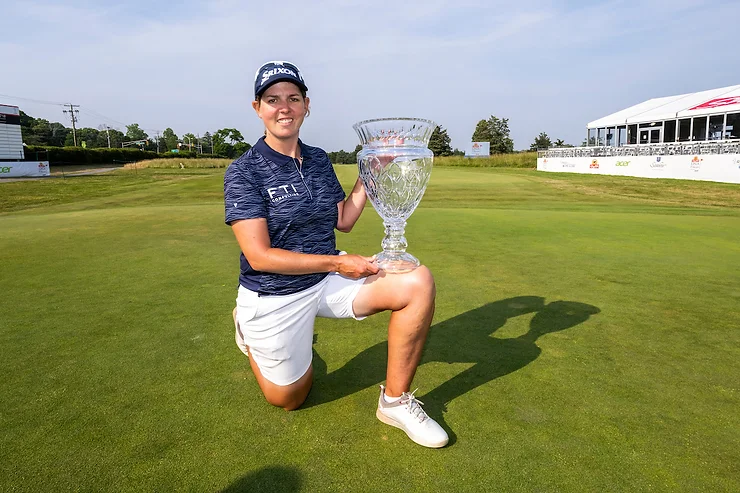 By Ron Henefer

GALLOWAY, N.J. - After winning her first tournament and major last year at the 2022 AIG Women's Open, Ashleigh Buhai added another win to her resume at the ShopRite LPGA Classic Presented by Acer. Entering Sunday's final round trailing by three strokes, Buhai had an impressive round of 65 (-6) to finish at -14. Her birdie finish on 18 was just enough to evade a late push from Hyo Joo Kim who ended the tournament at -13.

Buhai showcased consistent success throughout the day, hitting all 14 fairways and reaching 16 of 18 greens in regulation. The rest of the field took notice as she fired a 32 (-5) on the front nine, relying on her excellent putting. Two birdies on the back including a clutch putt on 18, solidified her victory as she became just the second South African with multiple LPGA Tour wins.

"Definitely the best golf I've played in my career. I think we have found a good balance," said Buhai. "I'm on the older side on Tour nowadays, one of the veterans. But I think everything I'm doing from my putting work with the putting coach, swing coach, and the mental side when I put them all together, I know that I can compete and have a chance to win.

"Obviously it's difficult to do every week, but I keep trying. I've put myself in that position four times really in the last eight months, and every time you get a little bit more comfortable in that position."

Hyo Joo Kim fell just shy of forcing a playoff against Buhai, nearly chipping in for an eagle on 18. Overall, it was a stellar performance from the five-time winner who will look to build on her success this week. Yan Liu finished in solo third posting a final round of 67, bringing her tournament total to -11.

"I just want to be myself, to be best. I had a very good driver this week and my putting was also good, so I was very confident with the last two holes," said Liu.

Nanna Koerstz Madsen shot 65 (-6) to finish in a tie for fourth place with Dani Holmqvist, who recorded a 72 (+1) on Sunday.

"I wish I could change yesterday's finish, but I'm just really happy to see my game getting better and putting some scores up," said Madsen. It's been a while since I've been up there, so just really happy."

Tied for sixth at -9 was a cluster of players including Suh Oh, Haru Nomura, Soo Bin Joo, Atthaya Thitikul, Jenny Shin, and also Albane Valenzuela. 17-year-old Chiara Noja finished tied for 12th place after a final round score of 70 (-1). It was an inspiring LPGA Tour debut Noja, as she became a fan favorite amongst Seaview spectators.

A wonderful and exciting tournament week on the Jersey Shore for the ShopRite LPGA Classic Presented by Acer. Next year, the shore tradition continues once again with Ashleigh Buhai defending her title.
Back to News